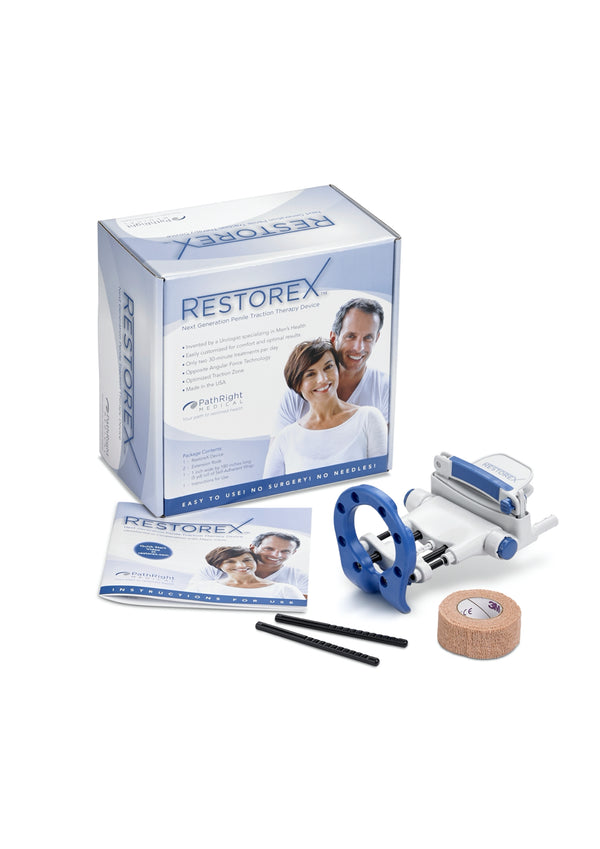 RestoreX Penile Traction Therapy Device for the treatment of Peyronie's disease or restoring lost penile length
RestoreX was developed in cooperation with Mayo Clinic and was invented by a board-certified Urologist specializing in Men's Sexual Health. RestoreX treats Peyronie's disease as well as lost penile length resulting from urological surgeries and treatments or chronic disease.
Please note that the RestoreX device accommodates stretched penile length of 3.75 to 10 inches.
No returns are allowed. RestoreX is a medical device, used on the body, that cannot be cleaned or re-sold and is considered a biohazard and medical waste. All sales are final.

Additional Information
Curve Improvement
77% experienced curve improvement
Of whom, 28% average improvement
Durable results after stopping therapy
Clinical Results
Penile Length Improvement
Peyronie's disease: +1.6 cm (3 months)
Peyronie's disease: +2.0 cm (6 months)
Post-prostatectomy: +1.6 cm (5 months)
Post-prostatectomy: +1.8 cm (8 months)
Clinical Results
I started using the RestoreX device in November of 2019. I found the RestoreX device for Peyronie's disease to be easy to use and very effective. I began to see some early results after just 8 weeks of use for 1 hour per day. I was very pleased that I was able to avoid having surgery, as would have likely happened if I had not used RestoreX. I highly recommend it.
Customer since November 2019
The key advantage of using RestoreX for the treatment of Peyronies' is its unique design allowing for the direct targeting of tension to the deformity site. Tension can be easily optimized at the desired treatment location in the Angled Position by using the adjustment buttons. Changing between use in the straight and angled modes is easy after initial set up. My Andrologist recommended RestoreX and I am pleased to see some positive improvement even after a short period of initial use. PathRight Customer service support for advice and parts is excellent. Highly recommended.
Surgeon & Customer since September 2018